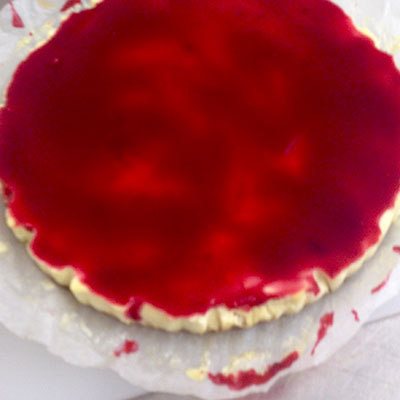 Simple but dynamite.
22cm spring form tin. Line the base with parchment. And grease the sides with oil, not butter.
Preheat the over to 160c
Ingredients and method for the biscuit base.
Biscuit base. Any old biscuits, shop bought or home made. Lay the still whole biscuits over the base of the tin without leaving any big gaps, make 'two and a half' layers of biscuits. This is the amount of biscuits you need to make into crumbs. Lemon or ginger biscuits are just perfect for this, but really any biscuits will work. Either in a blender or with a plastic bag and the end of a rolling pin, turn the biscuits to crumbs. Take 1/3 of a 250g block of butter (about 85g) and melt it in a medium pan on the stove or in a medium plastic bowl in the microwave. Pour the crumbs into the melted butter and mix well. Press the resulting mixture into the base of the lined springform tin. Use the back of a pudding spoon to make the surface nice and smooth.
Cheesecake mixture ingredients and method.
Two little tubs of cream cheese (usually 180g) own brand is fine and 1/3 of the price of the brand leader. Must be Full Fat, low fat is an entirely different product and the results will be not great. You are having a cheesecake. It is going to contain fat and fresh high quality ingredients so it will still be much better for you than an over processed, over sweet plastic cheese cake out of a packet. Plus sugar is now being taken seriously as the dietary bad guy and there will be much less sugar in this cheesecake than a cheesecake out of a packet.
Use the tubs as a measure for double cream (whipping cream is also fine) you will need two measures of cream.
Zest of two lemons
Juice of one lemon
Three eggs (beaten)
200g of vanilla sugar
Fresh seasonal fruit to garnish.
Warm the cream cheese in a saucepan over a low heat until soft, or microwave in short bursts until soft not runny. Add the measures of liquid double cream and mix in gently with a whisk. Off the heat, add the already beaten eggs, sugar and lemon juice and zest. Gently pour this mixture over the biscuit base and cook until the edges are set and starting to come away from the sides and the middle has a tiny bit of wobble to it. The middle will carry on cooking a bit as you are cooling the cheesecake. This is usually 45/50 mins.
Once out of the oven let the cheesecake cool for a few mins on a wire rack. Then transfer to the fridge. Let it cool for around an hour before you carefully remove it from the tin.
Garnish the cheesecake with fresh fruit in season.