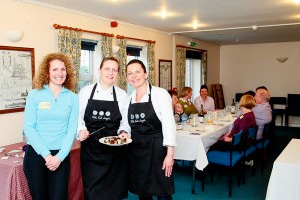 Pop up restaurants are quickly becoming an alternative to traditional dining out.
As the name suggests, pop up restaurants are literally eateries that pop up from nowhere, often at an unusual venue, or perhaps in the setting of a private home.
Talk, Eat Laugh is the brainchild of Rachel Muse, a chef from Salisbury who has cooked for a host of showbiz stars.
Rachel became a patisserie chef before taking up positions at busy hotels in Reading and Knightsbridge and a private household in London.
Over the years she has travelled around the world, preparing dishes for Formula 1 drivers, musicians, sportsmen and actors on private islands in the Caribbean and yachts in the Mediterranean.
Now 20 years after first training to become a chef, she has returned home to Salisbury and is involved with creating a fine dining experience either in an individual's home or at St Thomas's House in the city centre.
Rachel's new venture is to give the people of Salisbury the chance to be able find out what a Pop Up Restaurant is all about by visiting the Salisbury Festival Playhouse Pop Up Restaurant. Rachel said, 'We are celebrating the Festival by Popping Up in fine style from Monday 25th May right through to Saturday 6th June. Everyday from lunch straight through until after dinner, we will be delighting you with tasty food."
"The theme of the International Arts Festival this year is the Middle East, so we are matching this with a Middle Eastern menu. The menu is designed to tempt tastebuds and satisfy all types of hungers, from a bowl of olives or a delicious plate of baklava, to a full three course meal. We have thought of the little ones too and we have a nice range of things for little mouths. Plus if you are coming along with a friend who prefers plain food, there are a selection of dishes where we can dial down the middle eastern spices to zero. That way the taste of the chicken or the prawns shines through."
"I was a vegetarian for about ten years, which means I have total respect for people who choose not to eat meat. For me vegetarians (and vegans) aren't an afterthought. When I cook non meat eaters are served dishes that are really delicious well thought through. I think is rare for non meat eaters to be treated in this way, except in vegetarian and vegan restaurants."
Menu highlights include
Starters and Light Bites
Mezze platter to share (serves two as a starter) (v) falafel, humus, olives garlic/cucumber and yoghurt dip, pitta and crudités.
Soup of the day with pitta.
Stuffed Vine leaves (v) with crunchy salad.
Prawn skewers with spicy Harissa, cherry tomatoes and salad.
Main courses
Lamb Shish kebabs with jewelled rice, yoghurt and pitta.
Tagine of the day served with cous cous.
Falafel (v) served with toasted pine nut green salad and pitta.
Vegetarian dish of the day.
Puddings
Baklava, two different types.
Ripe peaches with Yoghurt and pistachio brittle.
Parties of six and over will need to book in advance to ensure a table. The booking line for that is 07442 250888 (ate, ate, ate, see what we did there?).
"At one of the standard Talk Eat Laugh Pop Up Restaurant which I host every three weeks in either Southampton or Salisbury the winning format is this…..You are greeted by a welcome drink and a selection of canapés. After five or so minutes and a few sips of your drink, the crowd falls into groups of people chatting and making new friends. The standard Pop Up is a nicely manageable number of guests, usually around 20. Once all the canapés have been polished off, the main event kicks off. We all sit together at one long table. The guests and staff are all mixed in together to add to the shared 'dinner party' feeling. As the chef I sit with the guests, but I do run around, between courses, like a mad woman. I run around so all the food is hot, tasty and pretty when in arrives in front of you."
The Salisbury Festival Playhouse Pop Up will follow this successful shared table format. You will be encouraged to join other guests and chat about the performances you have seen, or are about to see.
At a standard Pop Up no two evenings are the same, it is the people who make the night. It's the magic mix of personalities and the random conversations that make people come back again and again. The Festival Playhouse Pop Up will be the place not to 'see and be seen' but rather to 'meet and be met'. The Restaurant is a crossroads for people to sit and wait for friends, to chat or to relax. It is a very informal feel, you order at the bar and then find somewhere to sit. Whoever you sit next to at the Festival Playhouse Pop Up is bound to have something interesting to say.
"I hope to cook for you between Monday 25th May and Saturday 6th June. Do please come and say hello, any friend of John's is a friend of mine."
Talk Eat Laugh: 07442 250 888
Business email: This email address is being protected from spambots. You need JavaScript enabled to view it.
Twitter: @ChefSalisbury
Facebook: Talk, Eat, Laugh